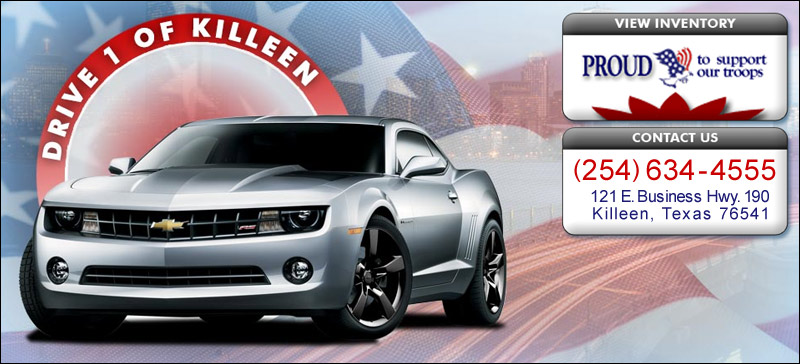 We're proud to offer you:


Quality - Our late-model, low-mileage vehicles must pass a 96-point inspection by ASE-certified technician before we buy them!

Financing - we can get you financed WAC! E1's and up can get approved with no money down!

Warranties Available
You'll get the best vehicle at the best price - with payments to suit your budget!
Barry Hodge, M.D.
Sales Manager

Don Simonton
Accountant

Diedra Hodge
Finance Manager
DRIVE 1® of Killeen is a Claude Hodge Motor Company selling all brands of quality used vehicles including the following models:

Acura
Chevrolet
Chrysler
Dodge
GMC
Honda
Hyundai
Isuzu
Jeep
Kia
Mazda
Mercury
Nissan
Oldsmobile
Pontiac
Saturn
Toyota
Diamante
Galant
Eclipse
Eclipse RS
Eclipse GS
Cavalier
Civic
Accord
Camaro
Mustang
Cougar
626 LX
Montero
Explorer
Expedition
Taurus
Escort
Focus
Impala
Dakota
Ram Pickup
Grand Am
F150